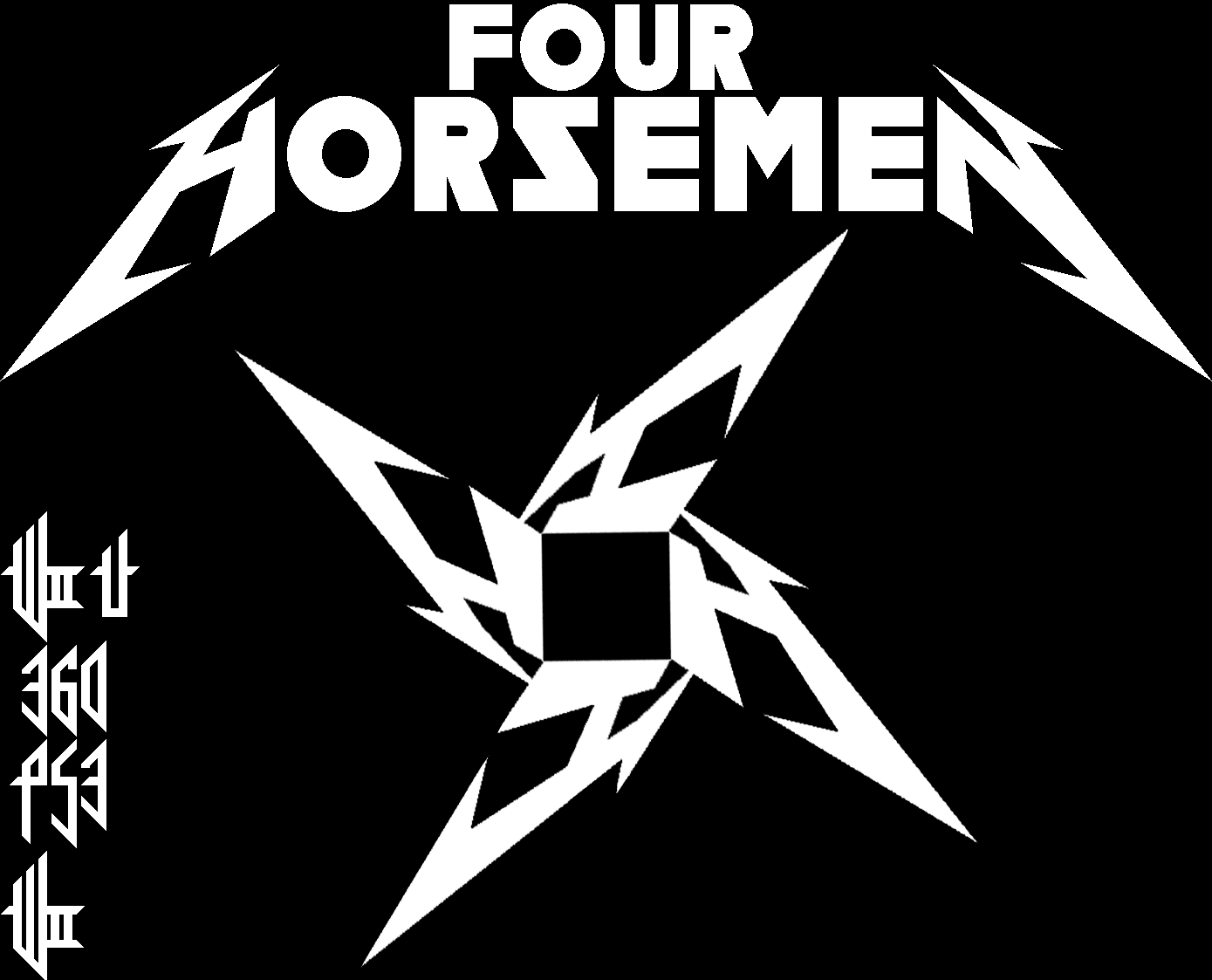 Club Name: The 4 Horsemen
Club Tag: 4H
About The Club
We at 4H, have a committed ourselves to a higher standard of excellence. We pride ourselves on choking the life out of a game and never letting go. We'll hit the TDM limit, we'll detonate both your bombs, we'll cap all the flags and you will not stop dying in the process. It is always like that in every single game we play and we will not ever stop doing it. It has been like that since Cod4 to World At War to MW2 Black Ops to Modern Warfare 3 & now to Black Ops 2.
Our attitude is smash mouth and our style of play proves it.
We will knife you in the face, we will mow you down, and we will outflank, outfight, outgun, outmatch and outkill you in every single way possible.
Death Smiles At Everybody...4H Smiles Back.
We are extremely competitive, very passionate and just down right Elite.
Daishi/Carnage4H wrote:




"The 4 Horsemen: We shit preparedness and piss excellence, on your dead bodies. Madbros?"
The best thing about us is that we are not just members, but a good group of friends, who always play together almost everyday if not everyday. Sure, we might be in different time zones, but that has never stopped us from getting into the same lobby with each other and dominating.
Are you active on Call of Duty?  Do you post often on the forums?  If yes to both, then continue reading.
Ghosts: http://community.callofduty.com/message/414823851
Black Ops 2: http://community.callofduty.com/thread/200422550
Modern Warfare 3: http://community.callofduty.com/thread/2389
Black Ops: community.callofduty.com/thread/100238963?tstart=0
Modern Warfare Reflex: http://www.callofduty.com/message/10063055
World At War: http://www.callofduty.com/thread/100153546?tstart=0
4H Website: www.4Hstable.com
YouTube Channel: http://www.youtube.com/TheOfficial4Horsemen
Members Of The 4 Horsemen
** = Presidents
* = Vice Presidents
* = General
* = Major

* = Captain
* = Ambassador
Nintedo Network IDs
**EliteQueen
**EliteKing
*  EliteBlade
* Shytblock4H / SblockGaming

*  BigGuy4H
*  Jrpy-4H
Jorge09
Like2Nap03 - PM For NNiD

Thanian
Cal619Guy
Jeronimo783
Martyuj
XBOX 360 GTs
* EliteBlade4H: BBBBlades
* SirLagALot: Luv My BabyChub
* Kusogaki: SchmediumRob209
* TriChronos
* Lolz: AnEpicBanana
beef jerkey408
(Queen & Blades cousin) sithispl2
(SirLagALots Bro) theDRUNKpolak
S1URRPY
Welshy: DoggyWelsh4H
PSN IDs
* Kusogaki209
* EliteBlade4H
* Decoy-Pnoy
* HugoStiglitz789
RiceyChicken
IMPORT: HELIOS-4H
(SigLagAlot's Bro) IamUhowRdrunk
Welshy: DOGGYWELSH
Club Regulations - Failure to comply will result in expulsion.
1. Glitching is prohibited in public matches at all times. The only time we condone glitching in a public match is when an enemy is glitching, so that we can prevent it from happening. For example: when an enemy is under the map on Cliffside, we will go under, kill that person, guard that spot and force them out of the match.
Glitching by definition is a programming error which results in behavior not intended by the programmers.
Glitching is the practice of a player exploiting faults in a video game's programming to achieve tasks normally impossible if the game's script runs as intended, such as running through walls or defying gravity. It is often used to gain an unfair advantage over other players in multiplayer video games.
"We will find you and we will kill you."
2. No Double Clubbing.  If you are in this club you are not able to be of any other clan. This is the only club you are able to be in.
3. You may not request a member to join your match by inviting them more than twice in a ten minute span, unless you know that the person you are inviting is having trouble connecting to you. Sending multiple invites is considered spam. Only invite a member to join you when you first start your party. Do not send an invite if you are in a match already or when the countdown has started in a lobby filled with people to insure that the person you are inviting will be on the same team as you.  Only exception is when a member has timed out, right at the 30 second mark, the game will let you know a person has timed out and will give you a chance to reinvite them into a game.  Should the member get on the same team, awesome.  If not, the person who just joined should leave so that we dont kill each other.
4. (Wii Only) 4H will never use cheap weaponry such as Rifle Grenades/Grenade Launchers or Dual FMGs first.  This means if you use them against us, its on like Donkey Kong and we will not hesitate to use ours against any and all enemies.
Powderslinger/Elite Sling/PowPow/PSling/Sling - Leader/Founder of Ai wrote:




"UNDER NO CIRCUMSTANCES WILL ANY MEMBER OF THIS CLAN TUBE UNLESS WE ARE BEING TUBED OR RPG'D.




Just b/c we are losing the match doesn't mean we can bust out the tubes. i've been on skype/ts plenty of times with everyone and we always ***** when we are destroying the other team and they bust out the tubes when they are getting there asses handed to them.  So here it is..i don't care who you are, if you are caught tubing without being provoked (being tubed/rpg'd, not losing) and i find out, you will kicked out of this clan. i do not want this clan to get a reputation of tubing.  if you disagree with what i've said, then you are free to leave this clan."
5. Be respectful to your fellow members and treat everyone how you want to be treated. Everyone has their own opinions, thoughts and feelings. Should you chose to engage in a text based altercation with another person outside of this club do not abuse our name.
6. Females will not be allowed to join based on potential club drama. Don't like it? Find some other clan. This is a family, we dont date each other. The only girl who will be in this club is the one who helped make it with me, and thats EliteQueen.
7. Follow the Code Of Conduct that has been given to us by the Call Of Duty website and most importantly HAVE FUN, that is what we are all about!
Can You Hold The Reins? Do You Have What It Takes To Be A Horsemen?
If you're interested in joining feel free to post in this thread and we will get back to you. If you are accepted to be apart of the 4 Horsemen, please post your Friend Code and in game name. Don't forget to add the members listed above.
We have a complicated system for joining the club. Not everyone will be able to join. We are a seasoned group of Veterans who know what they are doing. Our member processing is usually by invitation only, but if you prove yourself to be a respectable opponent and are on the forums, then you have earned yourself a trial period.
The Presidents and Vice Presidents talk to one another about who can or cannot join. If your reputation is well known and we have seen you online playing with or against us, you have a better chance in joining The 4 Horsemen. Once you have earned a spot on our roster, then and only then will you be able to add 4H to your name.
Fill Out This Application And We Will Let You Know If You Qualify For A Trial Run
-|Summary Of You|-
Nintendo Network ID (WiiU):
Gamer Tag (XBOX):
Network ID (PS3):
Are you above the age of 18?
How Did You Hear About 4H?
Gaming History:
Your Clan History:
(WiiU Members, Xbox Members and Playstation Members)
Do You Use Skype?
If Not, Are You Willing To?
-|Specs|-
Time Zone:
Schedule Of Gaming :
Prestige/Rank:
Kill/Death Ratio:
Best Kill Streak:
Average Kills Per Game:
Favorite Game Mode:
Style Of Play:
Most Memorable Moment:
-|List Of Favorites|-
Which Call Of Duty & Why?:
Map:
Weapon:
Attachment:
Perk:
If you are accepted into the Club as an apprentice, you should post frequently on our threads. This habit should be continued into full membership. It will let us get to know you better, and it's always nice for us to hear from others. Are you willing to post on our thread often? (4 posts a week is recommended).
And Most Importantly, Why Do You Want To Be A Part Of The 4 Horsemen?
Important Links:
Official Site: http://www.4Hstable.com
Official YouTube Channel: http://www.youtube.com/TheOfficial4Horsemen
Thank you Elite Queen and TriChronos for setting up our site and making it OUTF#@%!NGSTANDING!!
EliteKing
Member